Students prepare for future success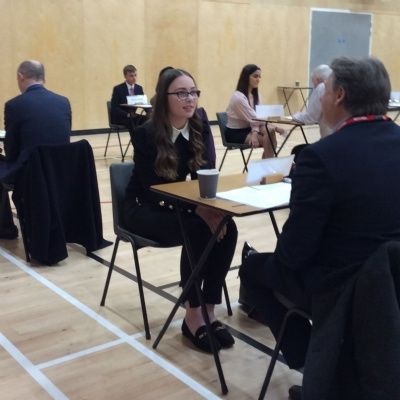 Another highly successful careers event for our Year 10's took place recently, as part of our commitment to prepare students for life after leaving school.
The day began with a motivational talk on how to make goals and aspirations a reality. Then, throughout the day a choice of seven workshops offered a chance for students to consider options for their futures such as apprenticeships and university, and also develop crucial employability skills. Two of the students who attended the event, Maddie and Evie, agreed the day had got them thinking about their future aspirations. Maddie said she had particularly enjoyed the team-building session, whilst Evie's favourite workshop focussed on student finance. Evie said, 'It's really got me thinking about what I want to do when I'm older and how to afford it'.
Over forty external providers, including notable employers Lloyds Bank, HTS, Bidfood, St Clare's Hospice and the NHS, kindly gave up their time to conduct mock interviews so the students could practise their interview skills. Having already prepared their CVs and interview techniques in lessons over the previous weeks, the students approached their interviews with impeccable conduct and dressed professionally. They clearly impressed the employers who were given the difficult task of deciding who they would offer a job to and why.
Here are just some of the comments we received from the employers:
'Really excellent candidates, the school should be proud of all the students' - Joyce Sackey, Careers & Enterprise Council
'I never cease to be impressed with how well Passmores supports students who need more help. I thoroughly enjoyed the morning' - Ian Hudson, Harlow Chamber of Commerce.
'Another great morning meeting your young people, all of whom gave a good account of themselves' - Simon Beeton, Derrick Wade Waters.
Valuable feedback was provided to all students who took part, and further discussion will take place in lessons to follow up on what the students have learnt from this experience.
Careers Lead, Tammy Bassett said: 'The day was a real success, with all students embracing the mock interview challenge and learning new skills. We're ensuring that our students are investing in their own futures and thinking about their aspirations and goals, not only academically but also for the world of work. Thank you to all our employers and to Make Happen and The Fix Up Team for their support'.