Students explore fake news phenomenon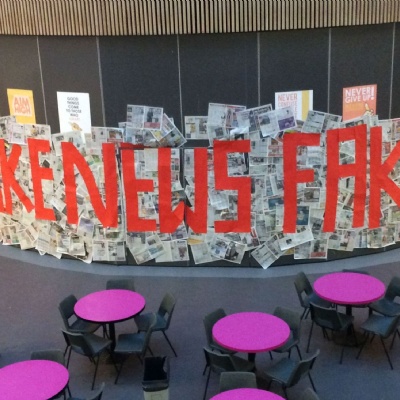 'Fake News' was the headline at our latest Cultural Appreciation Day held at school recently.
Lessons across the curriculum delved deep into the origins and wide-ranging uses of this world-wide phenomenon. Students learnt the truth about the scaling of maps in geography, how propaganda was used in history, diet myths, statistic manipulation, and the role of CGI in the creation of fake news. The thought-provoking topic of media bias was debated, with students sharing their opinions and insights on this ubiquitous topic with their classmates and teachers.
To demonstrate the extraordinary power and momentum that fake news can take on when transported via the Internet, Mr Goddard sent a tweet which was seen by over 80,000 people across five continents. Several representatives from the national press even contacted Mr Goddard to ask for interviews about the content of the tweet. But perhaps the most eye-opening thing of all, was that all of this took place within less than 24 hours!
Head of English, Maria Gladen said: 'This generation has never known a world without the Internet, without smartphones, and has never lived in a world without the continual influx of information and news. Their way of experiencing life and accessing information is beyond the recognition of any generation before them. We worked together to prepare them to engage with this world with safety and knowledge.'