An insightful and inspirational day at Cambridge University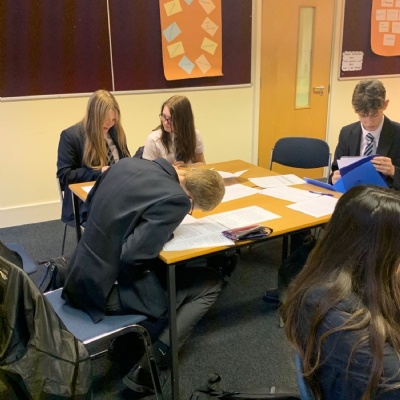 Fourteen of our Year 9 and 10 students have visited Cambridge University (Faculty of Education, located at Homerton College) as part of their studies working towards Higher and Extended Project Qualifications (HPQ /EPQ).
The projects are a fascinating way to carry out research on an area of the students' choice, developing independent research and evaluation skills and preparing them for life beyond school. Moreover, the work will result in the achievement of qualifications equivalent to GCSEs (HPQ) and AS levels (EPQ), which are valued by further and higher education providers as well as employers.
The diverse and mind-boggling topics chosen by our students include high profile areas of interest such as mental health (Harry and Louise), and medical research into technology to control diabetes (Alex), and the ethics of gene editing (Maya).
Concerns about the environment featured as a prominent area of research for some of the other projects. Zara studied the effect of plastic toys on children, Will looked at how we can build more eco-friendly housing, and Kyle and Hannah investigated what we would need to survive on other planets if living on Earth becomes unsustainable.
Meanwhile, the core values of society were questioned by some of the other students. Cade asked whether all police should be armed, Megan considered the morality of war, Rhianna looked at whether uniform should be compulsory in UK schools and Sian challenged the perception of women's sport being less high profile than men's.
A philosophical approach was used by Isabelle, who explored how Samurai ethics have impacted upon Japanese culture, while Jack examined the impact of ancient civilisations' beliefs on modern religion, with a focus on death.
Having the chance to discuss ways to enhance their projects with Cambridge University post-graduate students, our students gleaned many tips on how to improve their skills of research, analysis and evaluation. Harry (Year 9), commented that he had found the advice on how to carry out primary research particularly helpful. After exploring the extensive selection of books in the university's beautiful library, the students reflected on their work and considered how they will progress with their projects on the return to school.
Jude Brady, PhD student at the university said after meeting our students: 'All the pupils were so very thoughtful and engaging. They're an absolute credit to Passmores, and I sincerely hope they can all come back soon'.