Students find their future at careers fair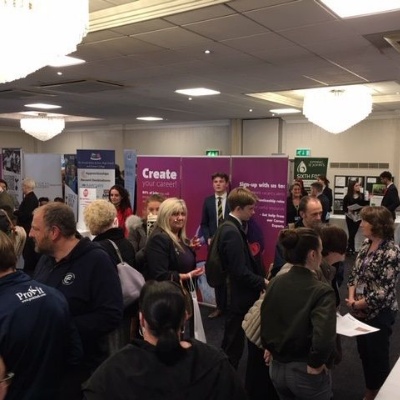 As part of Passmores' commitment to ensure students are set on the right path to achieve their future endeavours, the school recently co-hosted a careers fair with Stewards Academy.
Students and their families flocked to Harlow Hotel to find out what opportunities would be open to them after leaving Year 11. Our young people had the chance to chat with representatives from local colleges and sixth forms, as well as prominent employers who offer a wide range of apprenticeships, including Princess Alexandra Hospital and Stansted Airport.
Passmores employs its own careers advisor, Julie Kay, who works with all students on a one to one basis, providing specialist post-16 support. Mrs Kay helped co-ordinate the event and commented: 'The exhibitors were really pleased with the number of students who came, and felt the event was well organised, welcoming and a great opportunity for students to access lots of careers information under one roof'.
Moreover, feedback from students and their parents was highly positive, with many of them agreeing the event had been informative and helpful.