Cultural Appreciation Day: celebrating immigration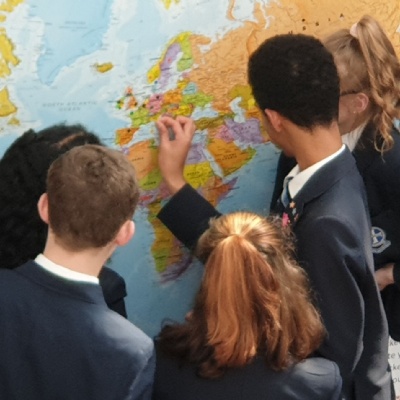 Passmores will be running a series of Cultural Appreciation days in the coming year to celebrate diversity within the school, our town and across the country.
The theme of the first event was immigration. The day began with a whole-school assembly, where Co-principals, Vic Goddard and Natalie Christie spoke of the cultural diversity within our school, explaining that flags placed around the Heart Space represented the heritage of staff's and students' families. Mr Goddard and Miss Christie also shared the results of their own ancestry DNA tests, revealing they both have mixed heritage which includes English, Welsh, Scottish, Irish and even a hint of Viking!
Throughout the day, lessons incorporated the theme of immigration. Staff and students engaged in thought-provoking discussions which challenged negative perceptions as they explored the role that immigrants play, and the important contribution they make to society. Stories displayed around the school shared staff's own immigration history, some of which reflected struggle and triumph in the face of adversity. Students pinpointed their family heritage by placing stickers on a world map to demonstrate the broad diversity contained within our own building.
To immerse the school in even more culture, a Portuguese feast was enjoyed at lunchtime which included mouth-watering Piri Piri chicken with rice and Portuguese custard tarts for pudding.
Head of English Maria Gladen, who coordinated the day's events, said: 'Significantly, this day has enabled our students to develop their own cultural capital which will allow them to become greater scholars and well-rounded, more interesting, individuals. This means they will be able to engage with our curriculum with even more vigour and knowledge'.
The next Cultural Appreciation Day will be held in November and will focus on the theme of religion.